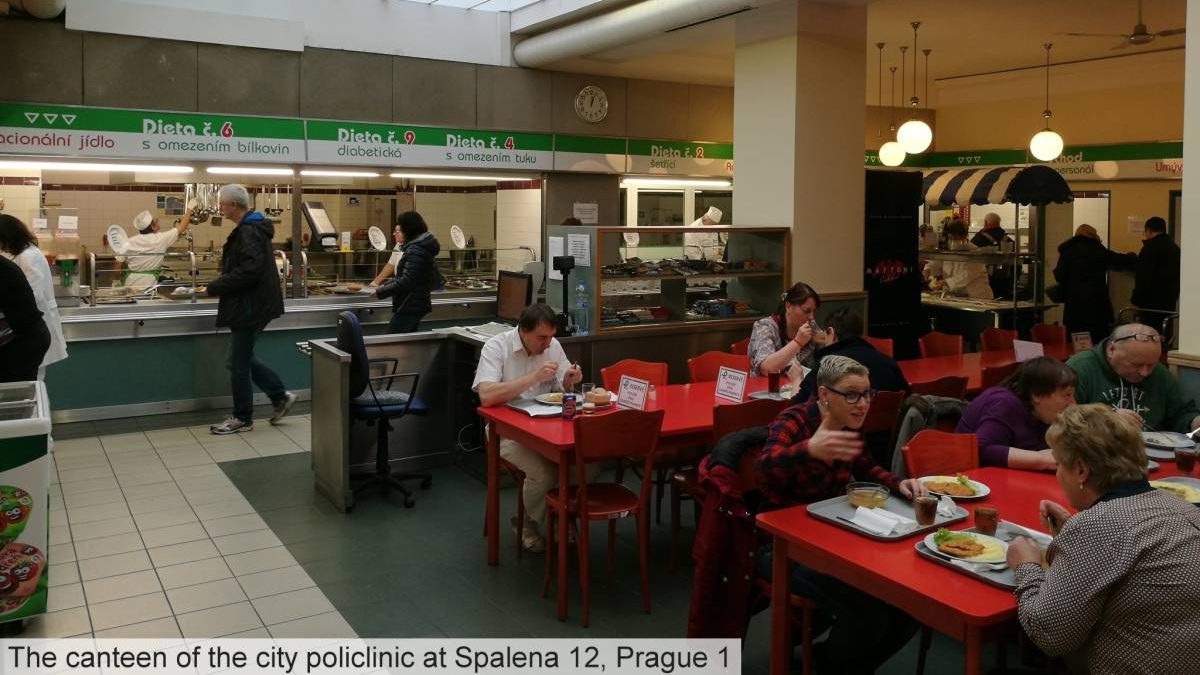 16 Jan

Authentic eateries in the centre of Prague

Hello Discoverers!

I would like to share with you my two favourite places for an inexpensive, yet good lunch in the center of Prague. Apart from fairly priced food, they also offer an opportunity to mingle with the local crowd. Both places are almost exclusively used by Czechs so don't expect service in fluent English. However, as they are both self -service, it shouldn't stop you from getting what you want. And there will always be an English-speaking customer helping you if necessary.

So don't worry and give them a try!

The first place is hidden inside of the City Polyclinic in Spalena 12. Once you enter the building, continue straight and you'll find it on the ground (first) floor.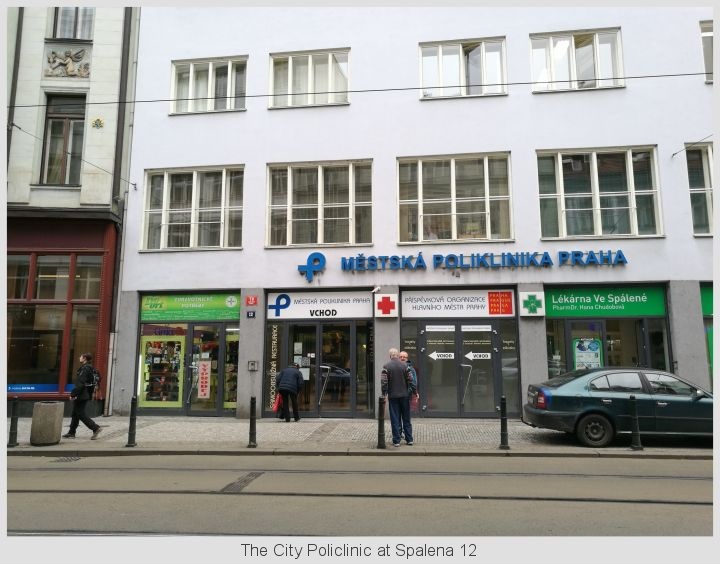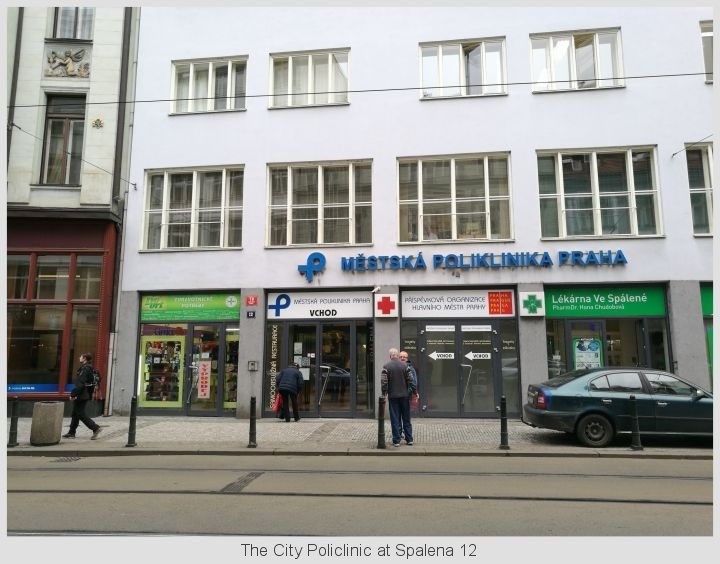 It is a self-service restaurant, originally catering for university students with special dietary needs. It also serves the staff and patients of the polyclinic but is open to the general public as well. The title photo of this post shows the interior.
The serving staff is unlikely to communicate in English, however all meals are on display and you will be able to get what you want by just pointing, gesticulating and smiling.
This eatery offers a very good value for money. Main courses range from 70 to 90 CZK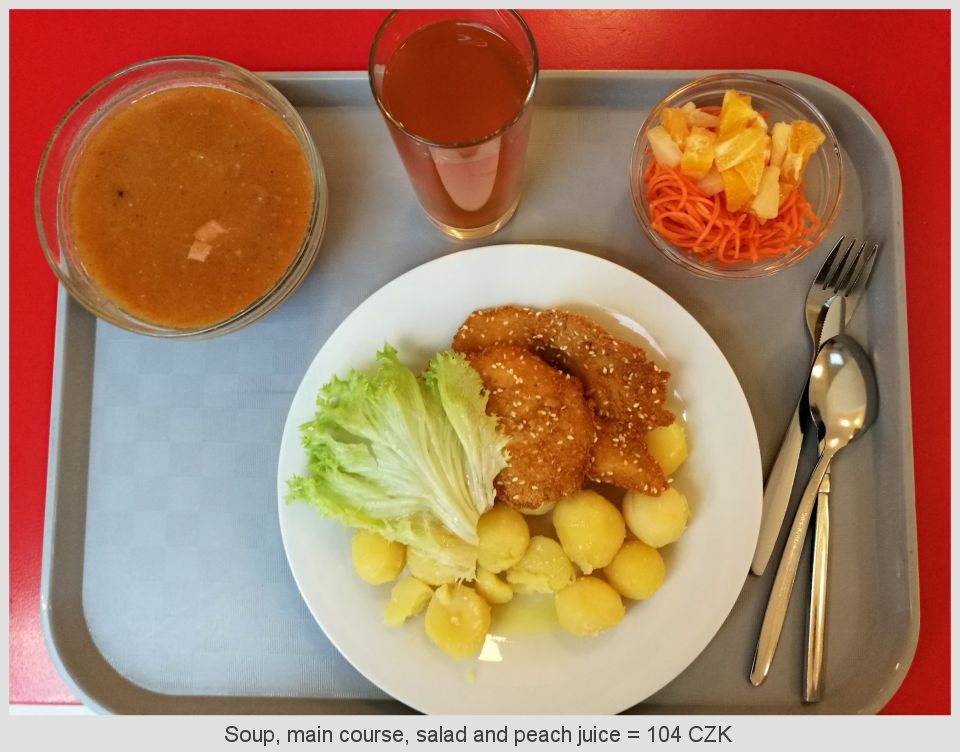 The only downside of this restaurant is that it is not opened at weekends.
Dietary Restaurant, Prague 1 City Policlinic
Address: Spalena 12, 110 00 Praha 1
The opening hours: Monday to Friday 11:00 to 14:30
Options for vegetarians/vegans: Limited
Added value: Non-touristy, mingle with locals, caters for special dietary needs
Accepting food vouchers: Yes, paper and e-vouchers by Sodexo
---
The second place is called Vaclavske bistro and you will find it at Karlovo namesti 6, Praha 2.
I couldn't get a shot from the outside as at the time of my last visit the whole building was covered with scaffolding. So here is at least a shot from Google street view.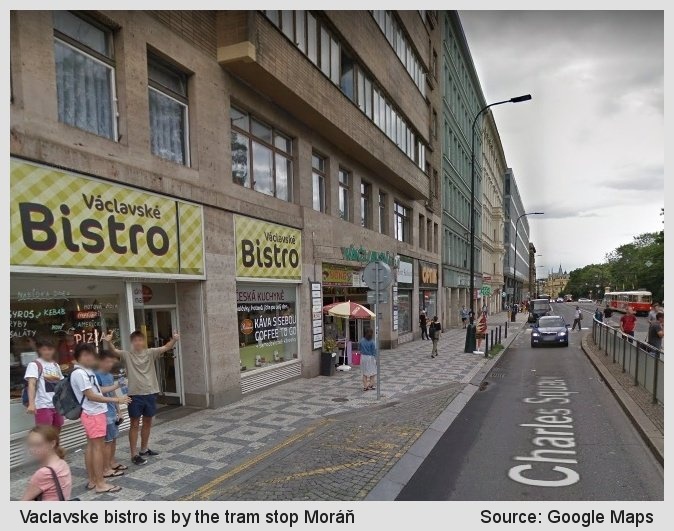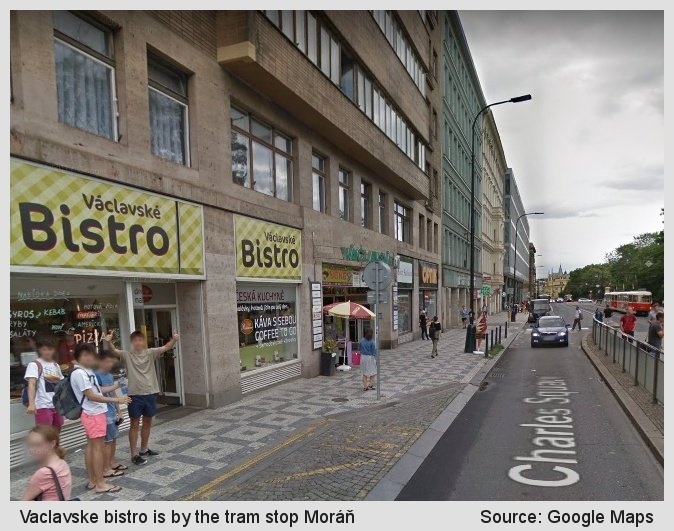 They offer a selection of Czech classics like svickova or rizek but also make pizzas.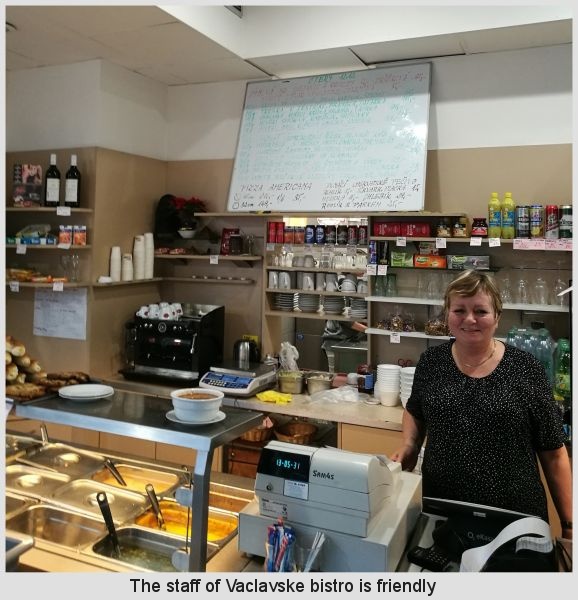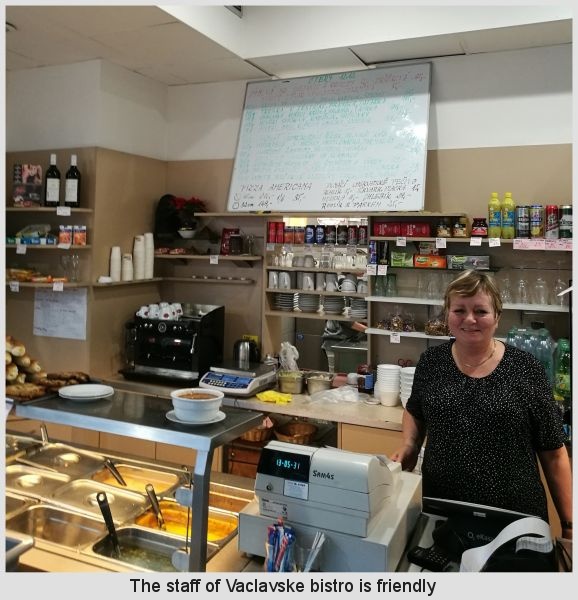 They seem to recently increase their prices, but  you will still get here a full lunch with soup, main course and a drink for less than 150 CZK.
Václavské bistro
Address: Vaclavska pasaz, Karlovo namesti 6, Praha 2
Opening hours: Monday to Friday 7:00 – 19:00, Saturday – Sunday 10:00 – 17:00
Options for vegetarians/vegans: If you're lucky, but generally not
Added value: Non-touristy, authentic, affordable
Accepting food vouchers: Yes, paper vouchers
If you have a sweet tooth, there is a bonus for you. Inside of the Václavská passage, about 20 meters from the bistro is an old fashioned Czech sweet-shop. Svatováclavská cukrárna is the only place in the centre of Prague I know of, serving the traditional Czech desserts like "větrník", "indiánek", "koňaková špička" and so on.
---
Let me know how you like the places in the comments section below. Would you recommend another authentic, inexpensive restaurant in the centre?
Enjoy your meal!
Cheers,
Filip