30 Sep

A night in Šumava

Intro

Reading a book (1) about Kilian Nowotny, nicknamed the King of Sumava and other smugglers of political refugees, inspired me to organize a Discovering Prague event which would reenact the arduous journey so many free-minded Czechoslovaks undertook to emigrate after the communist putsch in 1948.

I found a map online of the route across Sumava used by Kilian, called "channel 54" by the members of the secret service.

To make the experience more authentic, I had planned to walk at least a small part of the hike at night. And before leading my group through the dark woods I wanted to know the route by heart and check the accommodation I booked for us for the Friday night.

So, one afternoon, I boarded a bus heading to Šumava.

The adventure starts

I got off the bus at Vimperk – Sloup where Kilian used to meet up with people desperate to flee the country. Back then there was a pub, today there's only an abandoned military base with dilapidated barracks.

It was still daylight and after a few hundred meters a view far to the Czech inland opened. Could this have been a place where emigrants saw their homeland for the last time? I don't know but took a picture of it anyway.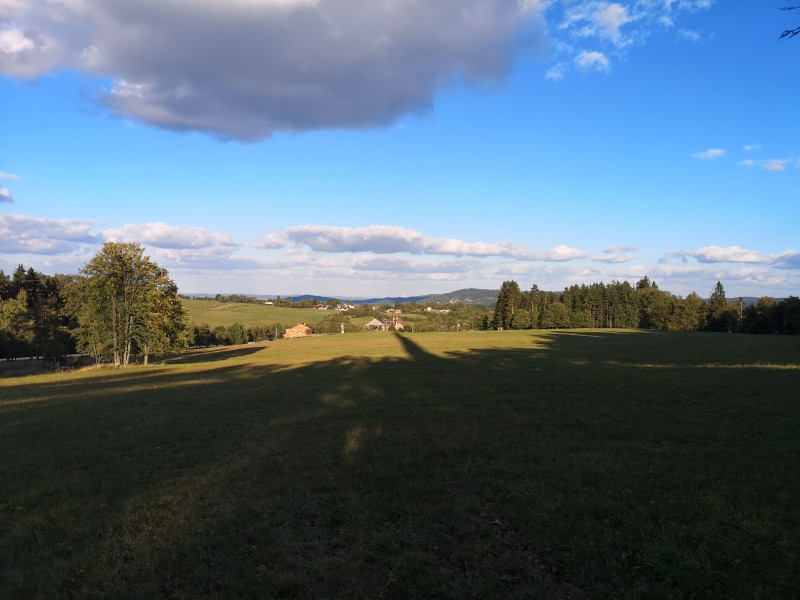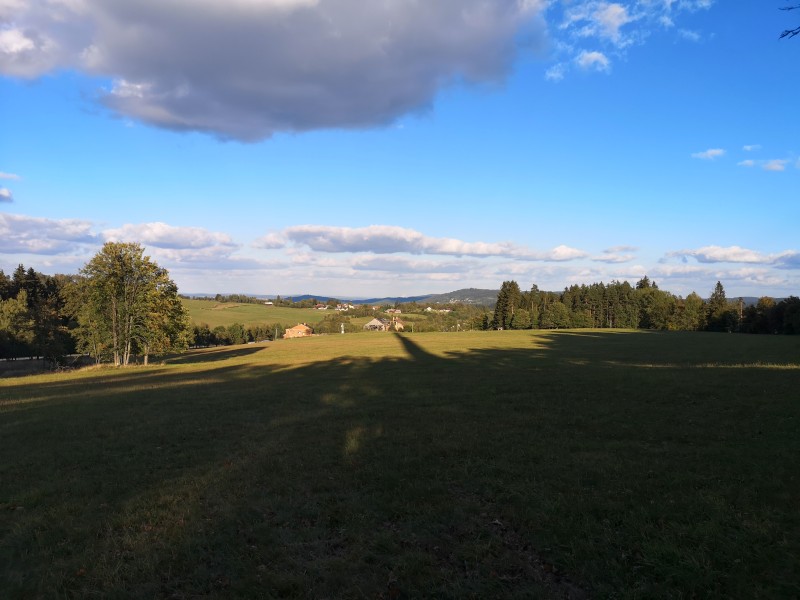 I couldn't resist entering one of the barracks, but there was nothing to see just empty flats, with all the traces of their last inhabitants taken away.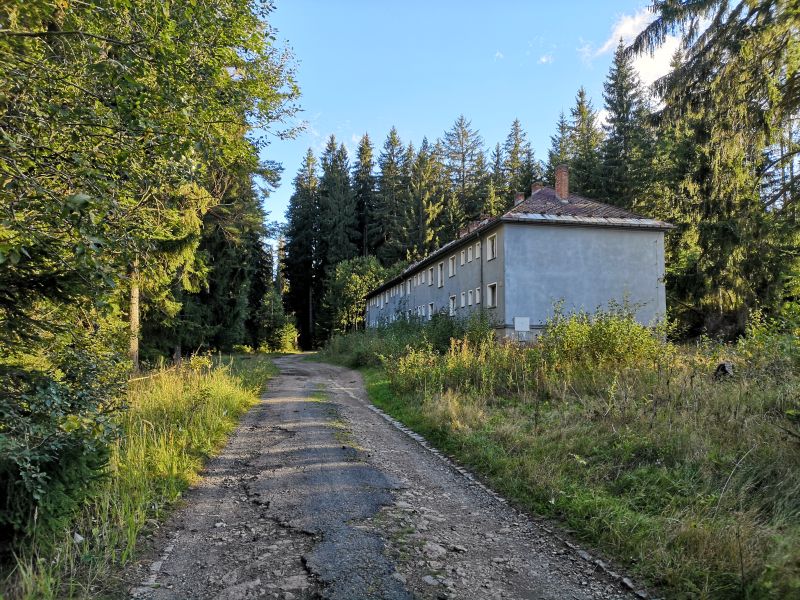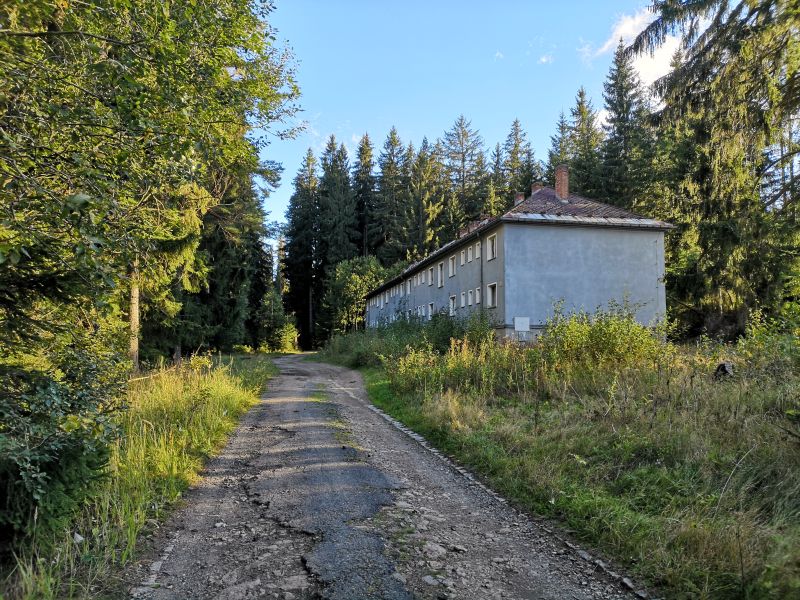 Soon I delved deeper into the woods. A murmuring river near by, strong scent of the forest, cold but super clean air filling up my lungs, and the silence. I felt truly great, almost euphoric.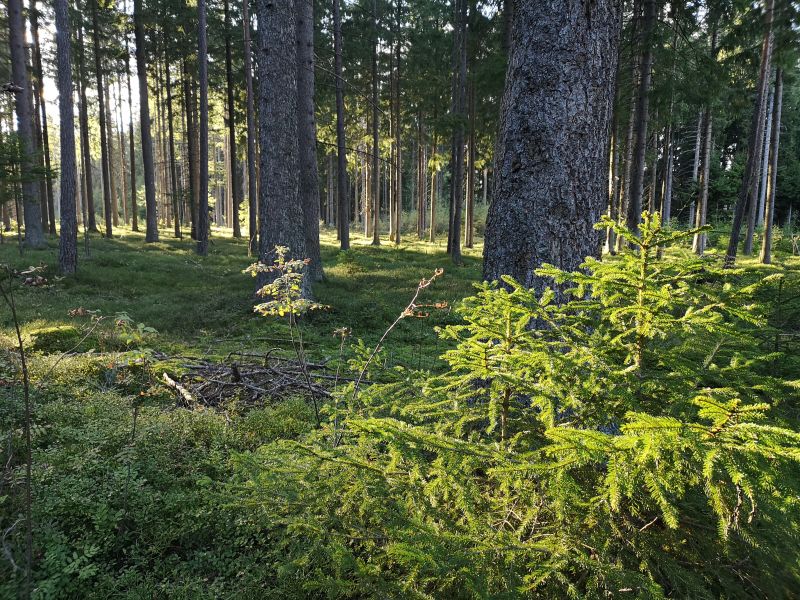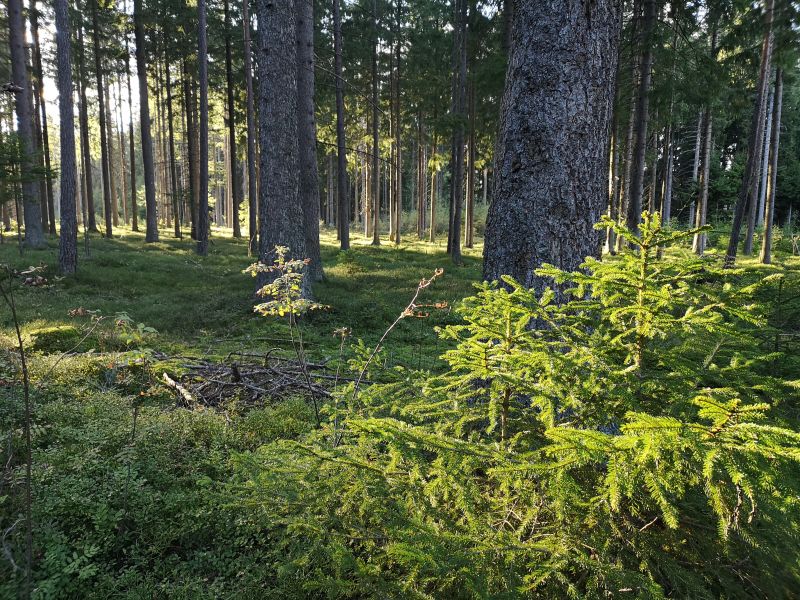 I got so much into the mindset of an illegal emigrant (they were stopping people from leaving the country not entering it!), that when a car was approaching on the forest road I ran to hide in the bushes. Border police you won't get me, I thought to myself.
I didn't book any accommodation for the night so made a quick call to the B&B which I had already reserved for the group trip. The website said the best time to call is between 7 and 8 pm. I got some signal around 7:30 and called the number. The man on the other side said okay and asked when I'll be coming. In an hour or so I said, which seemed to me doable at the time. Make it 45 minutes, replied the man, I'm going to bed. I thought he was joking since he previously agreed to accommodate my group at midnight. As I learnt later, he wasn't.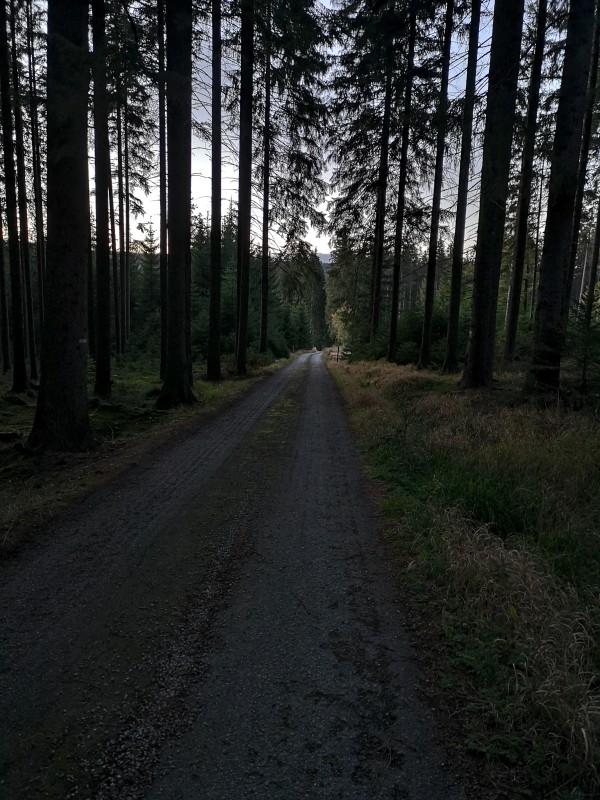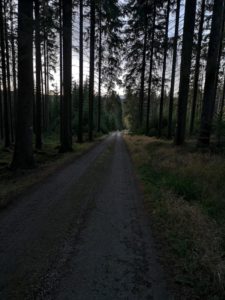 The night in the forest
Shortly after that it got completely dark. Suddenly strong orange light appeared, shining through the forest canopy. In a moment it dawned on me, it was the Moon rising. By some optical illusion it was strangely large and orange, almost red.
I hiked on and soon the trees around me swallowed the moonlight and the road in front of me became almost invisible. I put on my head lamp.
Not much later there was some noise and light around the bend of the road. It disappeared in an instant and the forest went quiet again.  I switched off my light and slowly  and cautiously went ahead. I could see a shape of an SUV parked next to the road. As I was passing it, I heard a male voice from the dark: "What are you doing in the forest at night?" "Going on a walk" was my reply and without stopping for a longer chat, I walked on.
Was he a hunter, a forester? I dunno. I should've asked what HE was doing there!
According to my map, the Kilian's trail was leaving the paved forest road. Surely enough I saw an unpaved, about 2 meters wide road branching off to the right.
There were stones and roots but I was happy to find that the trail was walkable even in the weak light of my head lamp. But as I walked along it was getting gradually narrower and less beaten. Eventually it disappeared altogether and I had to blindly follow my GPS through the wood. I caught a glimpse of a big bird flying from a tree to tree. An owl?  I could hear an animal roaming in the bushes not far from me, probably a wild boar.
Eventually I had to push my way through bushes, step over an electric cattle fence and walk across a pasture.  I made a mental note that when doing this trip with my group I will have to stay on the paved road. Finally I reached the first houses of the village where I planned to stay overnight. I rang the number I saved from before.
Unpleasant surprise
When the call was answered, I got a surprise. By saying that I'm here to check-in I triggered a monologue of swearing and strong language. "This is not my f*cking job, I have to get up at 6 am to work. Where did you see it to check-in into a hotel at 9 pm?" I acknowledged that it was my fault being late because I underestimated the time I needed to get there. He carried on venting his annoyance. All the time he addressed me in the informal way (ty rather than vy) despite never seeing me before. I held to myself and said "You're such a rude man but I'm sorry about disturbing you, I'll try to find somewhere else. Good night" and hung up.
Perhaps I did it deliberately, a desire for an adventure taking over. I know that had I been less proud I could've spent the night sleeping in a bed under this man's roof.  I realized he was previously okay with accommodating us at midnight because it was at weekend whereas today was midweek. Anyway, considering he was offering accommodation online, I found his reaction and behavior inappropriate.
No hospitality in Šumava?
You will find "hovno" (sh*t) around here were the last words of the upset landlord and he was spot on. I asked an older lady doing something outside of her house if she knows about somebody around offering accommodation. I was secretly hoping that she would offer her house. Instead, she pointed me to another family renting rooms in the village. I rang the bell at the house and a young lady with a little boy clinging to her opened the door.
I did my best to present myself as a harmless tourist but she was clearly uncomfortable letting a stranger in at this time of the day. So I said good night and went on to try my luck in Borova Lada, a village some 2 km further. I got there just in time to warm up in the only local pub before it closed for the night.
Considering my options, I came to the conclusion that going further to the wilderness, i.e. to the German border wasn't a good idea and instead decided to retreat back to the nearest bigger town which was Vimperk, some 16 km away. Before I left the village I made one last try and approached a ranger of the Sumava National Park who just arrived in his pickup truck. I begged him to let me sleep in the national park's office but he refused.
There was a little consolation in my plight: At least I saved money on accommodation, I chuckled to myself.
Walking the night away
The night was lit by the full moon, so while being on the open plain around Borova Lada I could comfortably see without using my flashlight. But man, it was cold! I passed some quietly grazing cows and then the road entered a pitch black forest.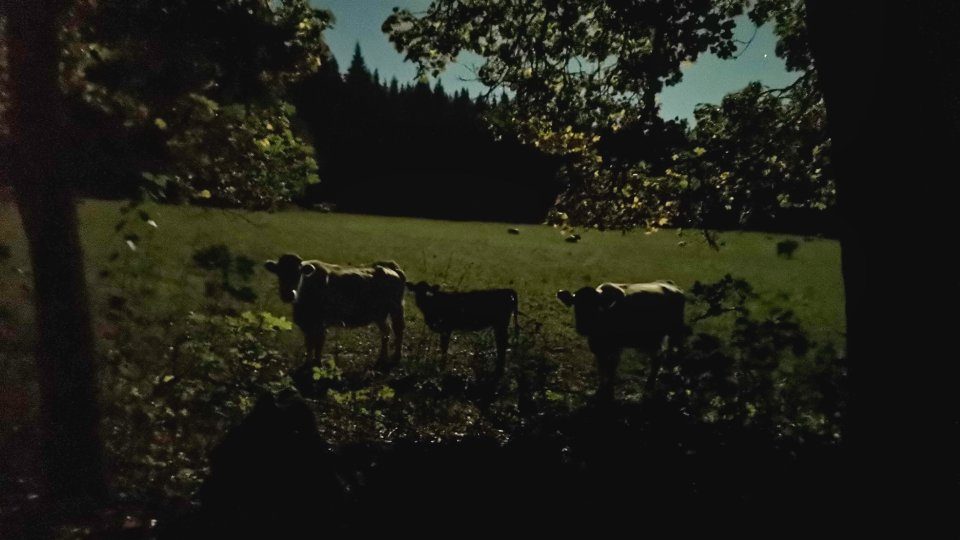 After another half an hour or so I reached a group of houses. On the bus stop were election posters promising a better life in the village. Considering the clean environment and well-kept big cottages, I thought the life here must be pretty good already.
Night sightseeing in Vimperk
It was around 1:45 am when I entered the historical town center of Vimperk. The path took me through a gate in the old city walls which were built in 1479 when the settlement received town privileges as a major market town and fort on the Golden trail to Passau.
The long and narrow main square is positioned on a slope, with a stone fountain in the center and a large white bell tower at the bottom end. Apart from some muffled music escaping from a bar the square was quiet and totally empty. I couldn't take any photos because my fingers were too frozen to set up a tripod. So here is at least a picture from Wikipedia.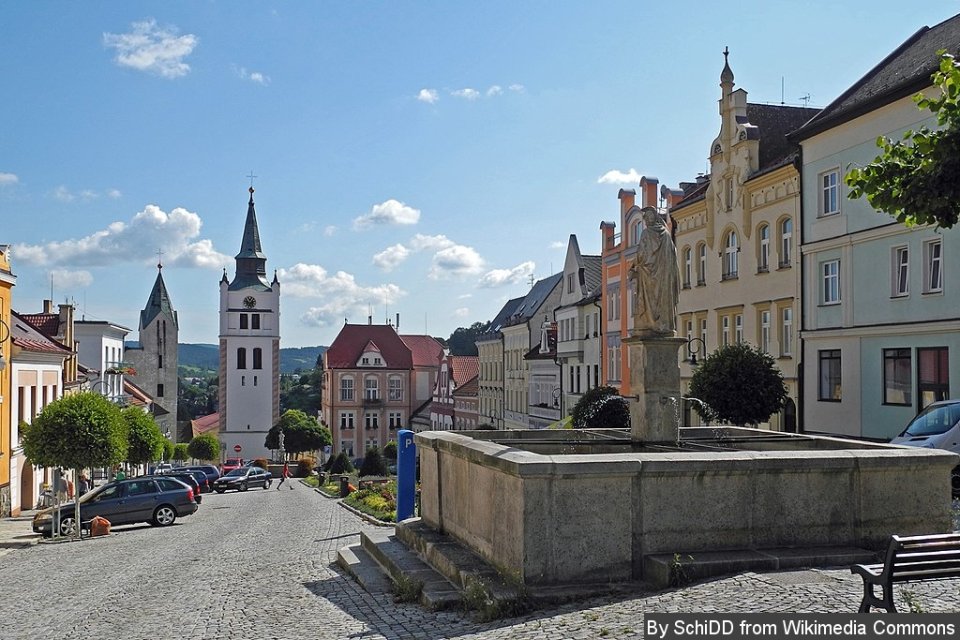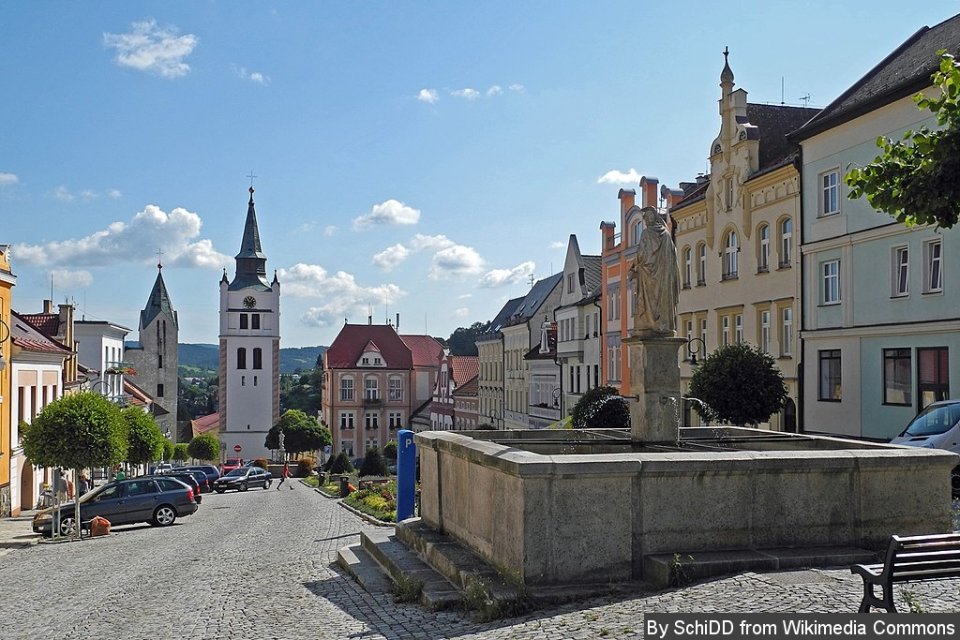 Now I was seriously cold and needed to find a warm place to spend the rest of the night.
Salvation
A petrol station is a modern equivalent of the wanderer's last refuge, of the warm cottage in the middle of woods. According to mapy.cz there was one opened 24/7 by the main road.
I found it, and was let in by a friendly member of staff. I got a hot chocolate from a vending machine and had a short chat about the lack of hospitality in Sumava and the woman's night shift. After brushing my teeth I fell into a shallow interrupted sleep with head on the table.
Cold air from the opened door and people talking woke me up at 4 o'clock, almost in time to head for the first bus to Prague.
"Thank you very much for letting me stay here!" I said for good-bye and felt truly grateful to that lady of Robin Oil gas station in Vimperk.
It was still pitch black outside and painfully cold. I got to the bus station 10 min earlier which gave me time to have a chat with an elderly man heading for mushroom picking. After changing bus in Strakonice I arrived back to Na Knížecí at 7 am, exactly 16 hours after I left it the previous day.
I got home and while having a hot shower I felt intensely grateful for not being homeless. Then I went to bed and fell asleep immediately.
Conclusion
Hiking in the dark forest by myself was something I haven't done for quite some time and it was fun. I should've planned my accommodation differently, either organizing it more in advance or pack camping gear. But I enjoyed a nice night walk and got to know Vimperk which is definitely worth exploring more.
Thanks to this little adventure, I've changed the trip's itinerary and booked rooms in a nice hotel in the center of Vimperk for Friday night. This way we will avoid a long hike in the dark and one rude B&B owner. We will join the "channel 54" trail on Saturday morning at Frantiskov, the place where Kilian Nowotny almost died in 1950. I'll tell you more about that once we're there.
Will you join me?
Cheers,
Filip
(1) Vilém Hrach, Šumava…hranici přecházejte po půlnoci, Cattacan 2017